Empowering people, changing lives
About Us
We create sustainable solutions to alleviate poverty and enrich lives.
Lighting the Path believes every person should be honored for their value, even those suffering from poverty.  Poverty is one of the biggest barriers to education, health, and opportunity. Education, training, supplies, and micro-finance are the strongest ways to economically empower marginalized populations. 
The core steps in providing an effective solution that will benefit individuals for a lifetime is first to listen to what they need; then evaluate the available resources, skills, and needs; and then develop empowerment programs to teach valuable skills. All this is done while maintaining cultural diversity and dignity. Our multifaceted approach promotes education and financial stability of individuals, families, and communities. 
Empowering individuals
with powerful and sustainable solutions and skills to help them to become more self-reliant.
Helping disadvantaged people
meet basic needs and improve living conditions.
Providing resources
to instill self-confidence and hope to those who may be suppressed or at a disadvantage.
showing Christ's love
in all that we do and everywhere we go, encouraging others to learn and follow the gospel.
Making an effort
to connect with disabled individuals who are often overlooked.
Assisting missionaries
to meet the needs of the people they are serving.
Founder
The CEO and founder of Lighting The Path is Dawn Malcolm, a successful photography and graphic design business owner with experience in the handmade and creative goods market.  She has a background that includes two Bachelor of Arts degrees and  experience in job and skills training and working with the disabled through employment at Life Skills Vocational Training Center and the Missouri Department of Disability Determinations.  Dawn has volunteered with the national Girl Scout organization for over 16 years training and coordinating volunteers, developing and implementing programs, planning social and training events and working with adults and girls of all ages and backgrounds.  She is an active volunteer at local schools and in her community working with Operation Food Search, Room at the Inn Shelter, Circle of Concern food pantry and other community charities.  She does mission work to help those in need worldwide.
"Working with missionaries in West Africa was supposed to be a short-term commitment, but it opened doors to a life purpose and passion of empowering others and ending poverty. I'm so fortunate to be able to impact lives, empower those in need and show them the love of Christ, all while partnering with some of the most passionate and driven people on the globe." – Dawn Malcolm
Meet Our Board
DAWN MALCOLM – Lighting the Path Founder, CEO and Project Developer and Director
SUSAN SCHLUETER – Vocational Program Specialist
KAREN ROBINSON MOORE – Grant Researcher, Project Resource and Facility Specialist
REBECCA JO SHEPHERD –  Accounting Director/Treasurer
BARBARA RUIZ –  Secretary
CHERYL ASTON – Volunteer Coordinator
We provide sustainable solutions to marginalized populations.
We work with mission and outreach organizations to identify impoverished areas and disadvantaged people who would benefit and are open to assistance.  After researching the best options to meet nutrition, health and education needs, we help groups and individuals improve or start their own enterprise and production of marketable products. 
Maintaining respect for cultural and social practices and maintaining the dignity of the individual is a priority.  Once people are able to meet their own needs and improve their families standard of living, they are able to teach others and this increases the effectiveness of our efforts and expands the mission.
Our mission is to end extreme poverty.
This mission aligns with the United Nations Millennium Development Goal. Through our work, we help families increase income, improve nutrition, receive education and have greater access to healthcare.  We are all unified in the purpose of answering God's call to take the Gospel to the nations (Matthew 28:18-20).  We work with all villages and people who are in need and continue reaching out to populations who have not heard God's word.
We partner with L'Association Namenegzbanga,  Les Ailes de Refuge (Sheltering Wings), and a number of missionaries in Burkina Faso, West Africa, Uganda and Malawi.  We have local empowerment projects in St. Louis, Missouri focused on the empowerment of marginalized, refugee and immigrant women.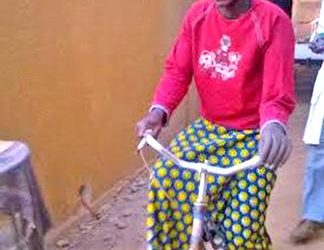 The Women's Aid Fund was established when one of the women we were working with needed a prosthetic arm.  There was no way she could afford this and we saw that this would make a huge difference in her quality of life.  Medical and special needs hinder the quality of...
read more